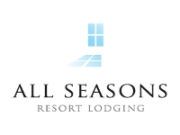 About All Seasons Resort Lodging
All Seasons Resort Lodging represents over 350 vacation rental properties throughout the world-class ski town of Park City, UT, beautiful San Diego, CA, and historic Santa Fe, NM. Our properties range from modestly priced condominiums to luxurious mansions.
We began in Park City in 1999 with just one property and now manage the nightly rental program for 17 properties and the homeowners association for five of those. Our rapid growth is due to consistently high rental returns, clear and honest owner communication, professional maintenance, and asset value growth of each property we represent.