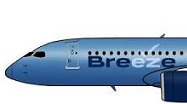 About Breeze Airways
Hello! We are a team of aviation, hospitality and technology enthusiasts who believe flying is the greatest privilege and opportunity in the world. And, we believe it should be an accessible and genuinely nice experience for everyone.
Together, we created Breeze Airways™ - a new airline merging technology with kindness. Breeze provides nonstop service between underserved routes across the U.S. at affordable fares. With seamless booking, no change or cancellation fees and customized flight features delivered via a sleek and simple app, Breeze makes it easy to buy and easy to fly. Welcome to Breeze, Seriously Nice™ flights and fares.